11 steps to plan your elopement [+ download free planning guide]

This is what you need to know to plan your elopement.
| Read also: Elopement – no longer for runaway brides and grooms

1. Imagine your dream day
Open up a bottle of wine and sit down together. Picture how the perfect day would look. Where are you? What are you wearing? What season is it? How is the ceremony happening? The day should be special from morning till night, so also think about where you'll spend the night and what to eat. Now it's not about what's doable or realistic- but to figure out what you're dreaming of. Dust off those Lonely Planet books and open Pinterest and Google maps on your laptop.
Hopefully, you'll know more after this evening. Maybe you realize you absolutely want to take a boat out somewhere on your day. Or maybe you want to combine your elopement with your Norway honeymoon. In that case, you've got a brilliant place to start when you start exploring your options.

2. Do your research and determine your budget
What does it take to get married where you're dreaming of, what is possible to pull off and what is realistic. Settle on a suitable budget after figuring out what things cost, and whether there are high and low seasons. Examine what the weather is like and if there are places nearby suitable as a plan b.
When you've got a certain idea of the costs involved you can decide on how much you want to spend on this experience. Remember to consider: airfare, other transport, and rental car, photographer, officiant, outfits, stylist, food, florals, outings, planner, rings, shoes, and backpacks.
3. Decide on where and when to elope
Based on the research you did in the section above you'll know when the weather is nicest and when you can get time off work. It's often a good idea to avoid the high season- both because of prices and crowds.
And this is maybe one of the most important things: WHERE do you want to go? Someplace warm or maybe to the arctic? Do you want spectacular mountains in the photos, or what about an exotic beach?
| Read also: How to plan a last-minute elopement

4. Who do you want there with you?
Should it just be the two of you or do you want your closest ones there with you? Most places require witnesses- do you want it to be someone you know or maybe go with someone random? Don't forget you'll probably need to tell those who won't be there that you've eloped as well.

5. Book your vendors
It's a lot less work to arrange an elopement than to plan a whole traditional wedding. But some things you won't get away from. Here are some vendors you might need to book:
Stylist

Driver/pilot
Florist

| Read also: How to choose the right wedding photographer

6. Arrange everything you need
There are no set rules. Everything is allowed. I still suggest getting:
Outfits. Check out these wedding dress designers:

Champagne to celebrate
Good shoes so you can do some hiking if required
Backpack and hiking gear if you're wanting a more adventurous elopement
Rings
Florals
| Read also: How to find the perfect elopement dress


Book your travel
Make sure airplane tickets and other transport are booked in good time before departure. Keep an eye out for offers and use your miles. You might also find exciting and unique accommodation on Airbnb.

Prepare the paperwork
This varies greatly from place to place, so do your research on this point. If you are considering eloping in Norway I've done the research for you so you can check that out here. Start doing this ahead of time as there may be a bit of waiting time and a lot of different papers to be sent to various places. And don't forget about passports and visas if you need them.
| Read also: How to elope in Norway

7. Design the ceremony; how do you imagine it happening?
You have to decide roughly where the ceremony should happen (do ask your photographer or officiant for suggestions). Even if you want to keep an open mind and see what makes sense when the day arrives you at least have to have a general area in mind. If you are having any religious segments or do readings to each other this has to be prepared. Make sure to consider the daylight to ensure the best possible photos. Talk to your photographer about this. And decide on what music you want to be played, if any.

8. Make a schedule
Now that you know where, who, what and when it's time to think about the rest of the day. Do you want to drink wine and eat sushi you have to make sure that this is organized in advance (and keep in mind that if this is something that matters to you to include it in the planning stage so that you know it's doable). And ensure that the accommodation both on the day prior and after is in a place that makes sense in relation to where the ceremony is held. If you're doing long-distance traveling give yourselves plenty of time to acclimatize to a new time zone and maybe also altitude. How do you want to spend the extra days? Maybe there are some cool sights or exciting activities nearby you can engage in.
| Read also: Why do a first look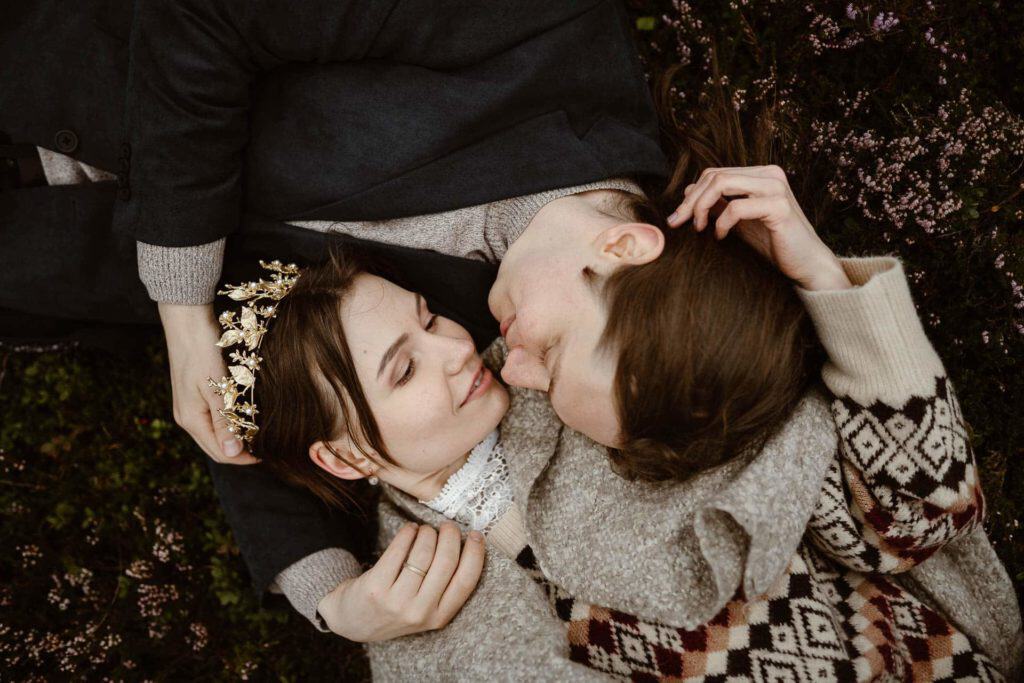 9. Prepare for departure
Check that everything is arranged and pack everything you need to bring. Arrive at your destination in good time and enjoy. The more you've planned and sorted in advance the less stressful it'll be when you're there.

10.
Get married
Enjoy your day and each other. Have a photographer there with you the whole day to ensure you get plenty of memories from all the in-between moments that the day is full of.

11. Welcome home
Plan a real party when you get home to share the news with your loved ones and to celebrate.