How to plan your Norway elopement in 2024 [+ FREE downloadable PDF]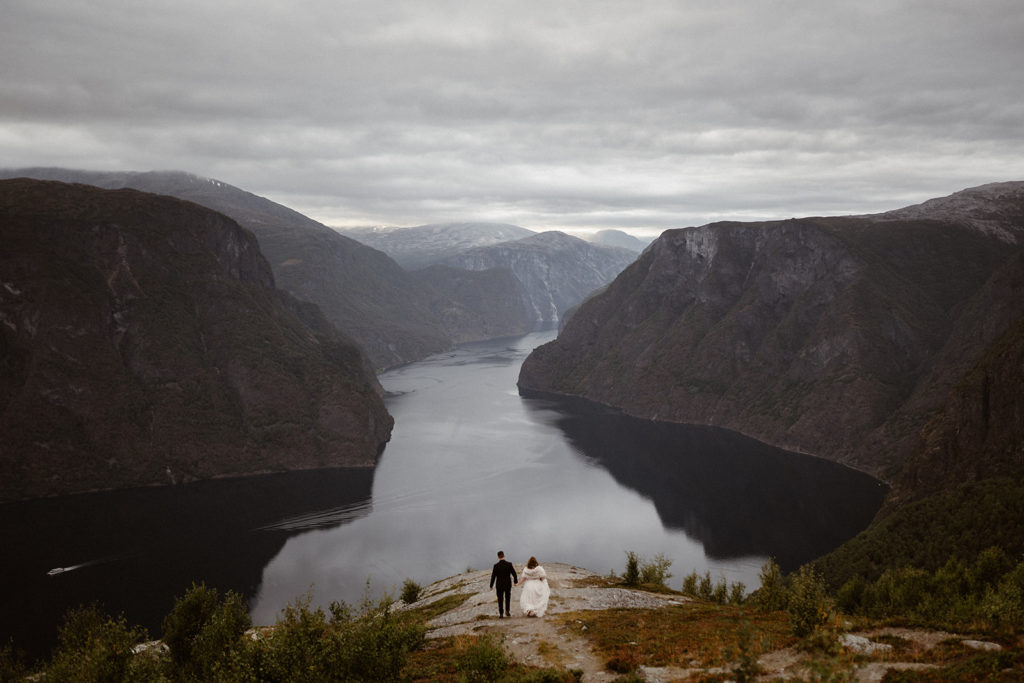 You can't go wrong with a Norway elopement. If you're planning to visit Norway it's probably to see nature. There are some lovely cities of course, but to be honest, the most amazing thing about Norway is the nature here.
Here is some insight on what you should know when you're planning a Norway elopement.


Getting to Norway
Norway is located right next to Sweden. Even bordering Finland and Russia in the north. Since it's located in the top left corner of Europe it's usually most convenient to fly into. Most choose Oslo as their arrival airport, but if you know you're headed to the west (where all the epic fjords are) consider flying straight into Bergen.
If you're the road trip type you can easily access Norway by car from Sweden, or by ferry from Denmark or the Netherlands. You'll most likely arrive in Kristiansand.
Norway isn't in the EU, but it is a part of Schengen so you don't have to worry about a visa if you have a passport from the EU or EEA. You can stay for 90 days without a visa if you're from the US, Canada, Australia, New Zealand or the UK. You should check out the Norwegian directorate of Immigration to double-check what you need before you travel.
Traveling in Norway
Norway looks like a tiny country. But actually, the distances are quite surprising. If you're only here for a short while you probably have to choose between seeing the sights in the Western part of the country (where the spectacular fjords and mountains are) or the epic Northern part.
If you want to go to the North to Lofoten, Senja, Vesterålen, etc. to see Northern lights (if you're patient and lucky), stunning beaches, and mountains, you most likely want to fly there. The train won't take you that far north, and it will take a couple of days to drive there. For perspective, the time it takes to drive from Oslo to Lofoten is the same as the distance from Oslo to Switzerland.
If possible, I do recommend driving in Norway. Both because road trips are the best, and you get to stop wherever you want and see both the touristy parts and the more hidden gems. And because not all parts of Norway have public transport you to get around in an easy way. Don't get me wrong, there is plenty of public transport, but it's hard to get to see a lot of the sights. Beware though – there are some toll roads and ferries you can't get around.
Planning your Norway elopement
There is an infinite amount of options. Maybe a bit too many. Start thinking of what kind of surroundings you prefer and what climate you want. Maybe you want to combine your wedding day with your honeymoon. I (of course) recommend considering what options there are for photography when you choose the place you want to get married in. And when I work with someone to help them plan out their day giving suggestions of locations is part of the process.
Make sure you take care of this before your Norway elopement
Can foreign couples get legally married in Norway?
After you decide on where you want to elope, check out what requirements you have to fulfill if it's important for you to have get legally married in Norway. If it seems difficult you can always do the formalities in your home country and do vows and photos in Norway (honestly – most people tend to go with this option). Depending on what country you're coming from you'll have different rules, but check out this page for more info on what you need to prepare.
Consider the surrounding
Including season, weather and details.
An elopement can be done so SO much simpler than a wedding. There's far less to worry about, and you are free to do things however you want. But – it can be really nice to make more of an effort than the bare minimum. Season matters a lot when it comes to colors and light- not to mention the weather. In addition, it can be fun to choose your florals and dress based on the setting you've decided on. Even though you two are the focus it can be made so beautiful and memorable. And don't forget about the photos!
Get help to plan and remember your Norway elopement
My job is to make sure to document the day, so that you have the memories. You'll get plenty of photos to remind you of your journey. From putting your wedding attire on in the morning, and doing the midday hike to bonfire snuggles at night. No matter what you're picturing, I'm there! Read more about my offerings.
An elopement can be held almost anywhere
Norway is full of beautiful places and there are almost no limitations as to where you can get married, or have an elopement. Choose between fjord, beach, and forest- or best of all do a fun roadtrip and combine it all! Some suggestions are Hardanger, Vesterålen, Stryn, Lofoten, Dovre, Trollstigen, Hoddevik, Aurland, Sognefjorden, Lyngen, Romsdal, Lofoten, Innerdalen, Senja, Steigen, and Svalbard.
You can elope and just say your vows
or you can get formally married.
You can find a cute Airbnb and get ready in and hike up a mountain, or roadtrip along the fjords until you find the right ceremony spot. There's no right or wrong. It's all up to you. But– If you want some help- I'm right here. You want to avoid the tourist traps, and go where you can get the best photos.
| Grab the FREE Norway elopement planning guide here, and start dreaming and planning.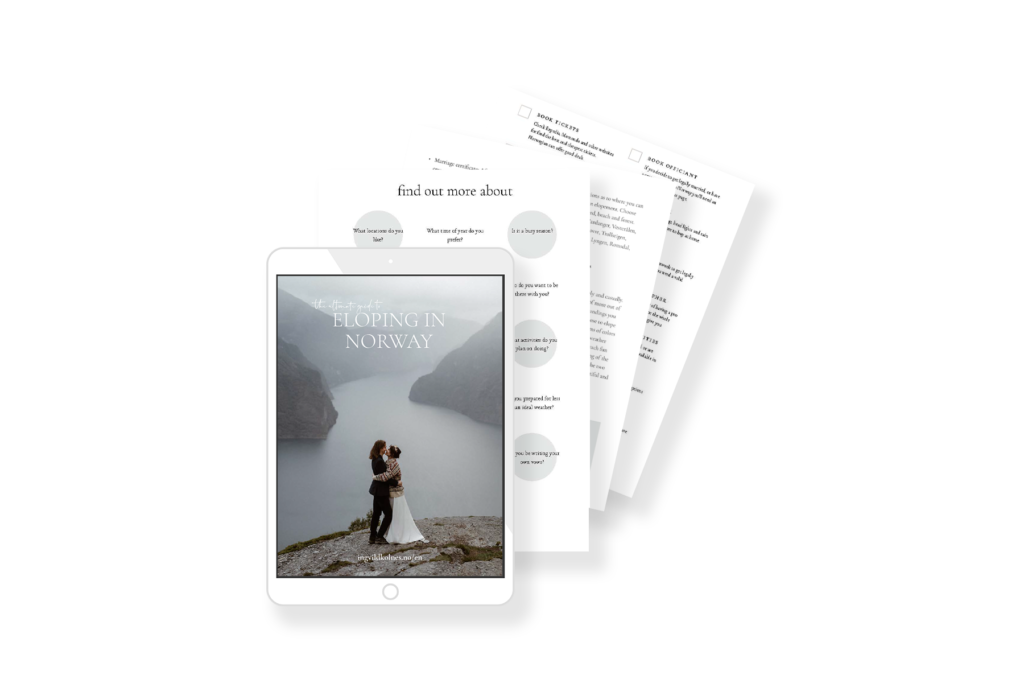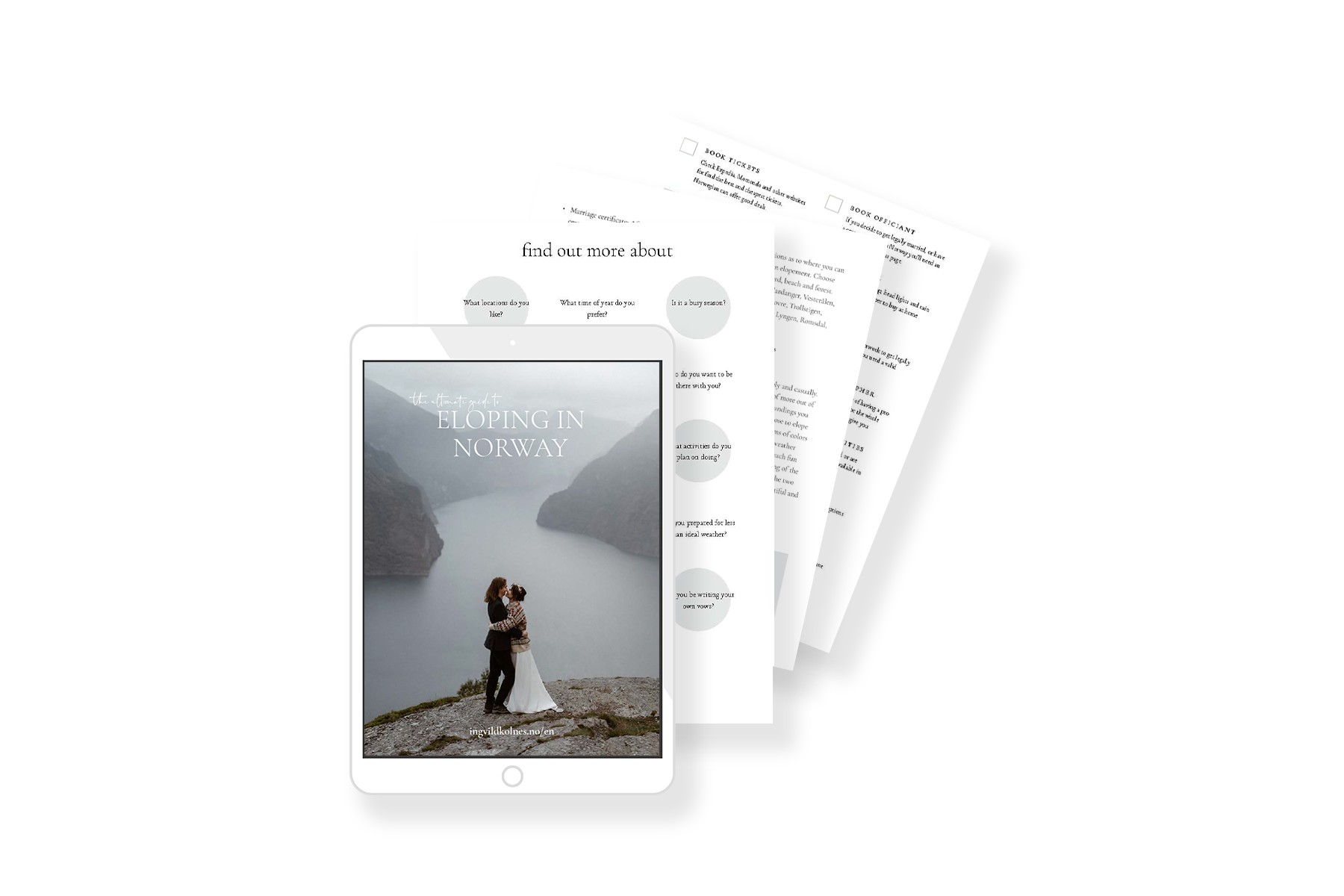 You can elope pretty much anywhere in Norway. Which is both brilliant and frustrating at the same time. Because where do you choose?!

When I work with a couple who want to elope I always start off by asking them a bunch of questions to map out who they are and what would suit them – and of course what they're dreaming of. If you want my help planning your own elopement, let me know. In the meantime, I'll tell you more about your location options when it comes to eloping in Norway.
| Read also: Planning an unforgettable elopement

Epic scenery for your elopement in Norway
In Norway, you can pick and choose from scenery such as white sand beaches, world heritage fjords, waterfalls, and epic mountains. You might get to see northern lights, snow, and blossoming trees, all depending on where you choose to go.
What it comes down to is what scenery you prefer, what time you year you are up for and how much movement you want to do.

Snow, ice, and winter
If you want winter and snow best times are January to March, or even through May in many places – especially if all you're hoping for are snow-capped mountains. If you're set on going during the summer and you're still hoping to see what Norway is famous for, I'd recommend checking out one of the many glaciers. For example Fonna summer ski resort. Check out Northern Norway and maybe, especially locations at altitude like Jotunheimen.

Fjords, waterfalls, and mountains in Norway
For breathtaking fjords, epic waterfalls, and mountain views you should visit Western Norway. Some places might have more tourists than others, so to avoid that you should pack your hiking boots. You don't have to step far away from the beaten track to get the place to yourselves though. If you do want to do some serious hiking, the summer months are definitely the right time to come. Popular destinations include the spectacular (and overcrowded) Trolltunga or Prekestolen near Stavanger, or check out ut.no for thousands of other ideas like Dronningstien in Hardanger or Hesten in Senja.
Observe the Northern Lights
If the northern lights are what you're after your best bet is Northern Norway in months where it gets dark at night, September through March. The phenomenon that is the northern lights are not seasonal, but the chances of seeing them are. It has to be dark enough, you need a clear sky and the effect is strongest from the Lofoten Islands to the North Cape. You need patience and warm clothes (plus a decent amount of hot chocolate). Northern lights can't be guaranteed, but check out the northern light forecast before heading out.
Turquoise lakes as the backdrop for your Norway elopements
Are turquoise alpine lakes your thing? We've got 'em. Some obvious choices are Lovatnet in Stryn and if you want to hike Besseggen it will give you a beautiful view of Gjende. Nigardsbrevatnet is another one worth checking out. Some are very accessible and you can even kayak on them, while others require a hike like Bondhusvatnet.
Water activities to enjoy
Craving some action-packed water activities like white water rafting? Check out Sjoa in Gudbrandsdalen, Ølstra in Sogn og Fjordane, Ostedalselva in Sogn og Fjordane or Raundalselva, Strandaelva and Vosso in Voss. They are all excellent for white water rafting,
You can experience one of the strongest tidal currents in the world- Saltstraumen. And did you know Norway, and Saltstraumen specifically, is an excellent place to go diving!? Also, check out Hattan if diving is your thing.
And if you want to go canoeing or kayaking you have even more choices. Some of the most popular and spectacular places are Vesterålen, the Helgeland coast, Sotra and Øygarden outside of Bergen, the Vega islands as well as numerous lakes and rivers inland.
What about beaches?
White sandy beaches? In Norway? Yes! Lofoten and Senja have many beaches overlooking unique mountain views. There are also endless beaches and popular surfing around Stavanger like Solastranden, or Hoddevik in Stad. Vetvika and Grotlestranden in Nordfjord are also stunning.

Blossoming trees in spring
A favorite of mine is the fruit blossom season in Hardanger. Imagine a stunning fjord between tall mountains, and apple, pear, and cherry blossoms to top it off. May, or if you're lucky also early June is when to catch it.
Now, you decide what you want for your Norway elopement
Is it hard to choose? I'll let you in on a secret. You may not have to. So many of these are possible to combine. As I mentioned in the beginning when I work with a new couple I always start by mapping out what they most want to do, and then I create various options for them to fit most of them into the same unique elopement experience. How cool is that?! Less work and more fun for you! Let's talk!
Stunning destinations for your Norway elopement
Hopefully, you'll know more about what scenery you're wanting for your Norway elopement now. You've got a lot of options, but let me share some of the most iconic places with you so you can explore further on your own.
When to have your Norway elopement
Eloping can be made so simple and easy. But- if you want to make a bit more out of it you should consider the surroundings you choose. The time of year you choose to elope will make a huge difference in terms of colors and light, not to mention the weather you can expect.
Seasons, climate, and weather
Visiting Norway can mean so many different experiences. It depends on where you go- north or south, winter or summer.
The northern part of the country has long days with midnight sun, (mosquitos) and usually colder weather in the summer.
In the winter however you can expect snow and if you're lucky you'll see the Northern lights. Expect short days and cold weather.
In the South, it's doubtful that you'll see any northern lights even in winter, and even though the days are long during the summer months, the sun does set. The winters can be rough and roads may close at mountain passes, but the summers can also be gorgeous.
Note that I'm saying can. The weather is very unpredictable, so make sure you're prepared for what may come. Bring warmer clothes even if you're visiting in summer.
Summer
June, July, and August usually see the best weather, and often May is so very nice as well. Most Norwegians have their holiday in July so it can be more crowded, and Europeans tend to come in August when their holiday is. If you travel to Northern Norway in the summer months you'll experience the midnight sun, which means the sun never sets. It's incredible to go hiking in the middle of the night.
Autumn
Autumn colors tend to start in September, and in October you'll most likely see them too. Both October and November can get very cold, depending on where you go and natural weather changes of course. December is very dark – completely dark in Northern Norway. And if it's the Northern lights you want to see, September through April is your best bet.
Don't forget to choose flowers and dress depending on the setting you've chosen. When it's just the two of you in focus everything can be made so beautiful and memorable.
| Read also: Planning an unforgettable elopement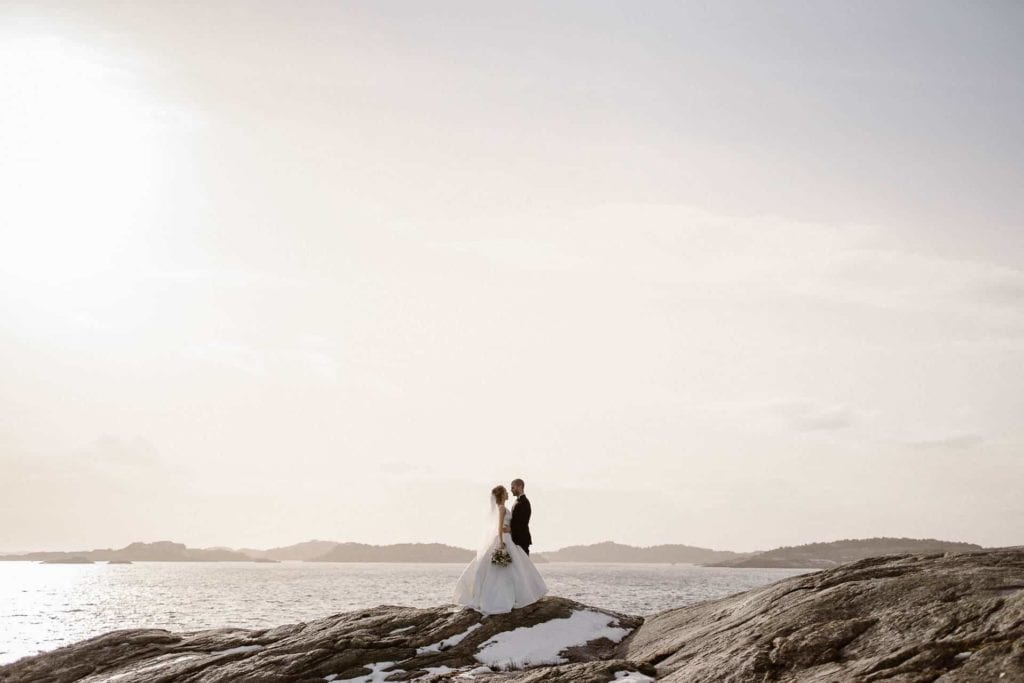 There are many factors to consider when choosing the right wedding photographer for you. I've listed some of the most important ones here, and I hope they are helpful.
Do you like the photos they've taken previously?
Look through the photographer's portfolio. Is this how you want your wedding day to be portrayed? Also, try to see if the images are consistent in terms of editing and style so you know if you can expect the same.
Lighting is everything to photographers. And every photographer uses the light differently. Do you want light and airy photos? Dark and moody? All-natural light or cool effects? You have to decide and go with a photographer that offers this, and don't expect that you can tell your photographer what you prefer later on. Ask to see photos from a variety of lighting situations to make sure your photographer can handle it if you are in doubt.
Do you like the photographer?
You should also meet with the photographer before booking – either on Skype or in person. You have to get along. After all, you will be spending the whole wedding day together, and if you can't relax and be yourself with them, then you probably won't like the photos in the end either. Get to know them. Learn about their motivation and experience level.
How's their storytelling ability?
Are they telling a story through their photos or simply taking pretty pictures? Are there details and overview photos? Pictures of guests enjoying themselves and all those little moments in between? Maybe you only want those posed shots of you all dressed up and that's fine, but do pay attention to what the photographer is offering before making a choice. Just because someone's a good photographer doesn't automatically make them a good wedding photographer!
What's your budget?
Can you afford them, or switch some things around in your budget to accommodate the price of the photographer you dream of? You likely won't be sorry you did. After all, after the day is over it's the photos you have that are left to tell the story of your wedding. If they are lower in price than other photographers you should find out why. Maybe they are new and want to add to their portfolio. Maybe they are not including as much as others you are researching in their price- so do your research to find out why.
I urge you to go with your gut feeling.
How to adapt your Norway elopement to your budget
Yes, Norway is considered quite expensive. But shouldn't your elopement be a time to enjoy yourself?
If you want to stick to a budget you can use some of these tips:
Get your food from supermarkets (but never petrol stations).


Camp.


Stay in cheap cabins and cute Airbnbs.


Travel by public transport or hire a small car.


Tap water is safe to drink.


Choose to travel off-season for more budget options.


Book your public transportation in advance.


And – there aren't entrance fees to any national parks or nature reserves. You can hike pretty much anywhere for free.
| Grab the FREE elopement planning guide here, and start dreaming and figure out how to plan your Norway elopement.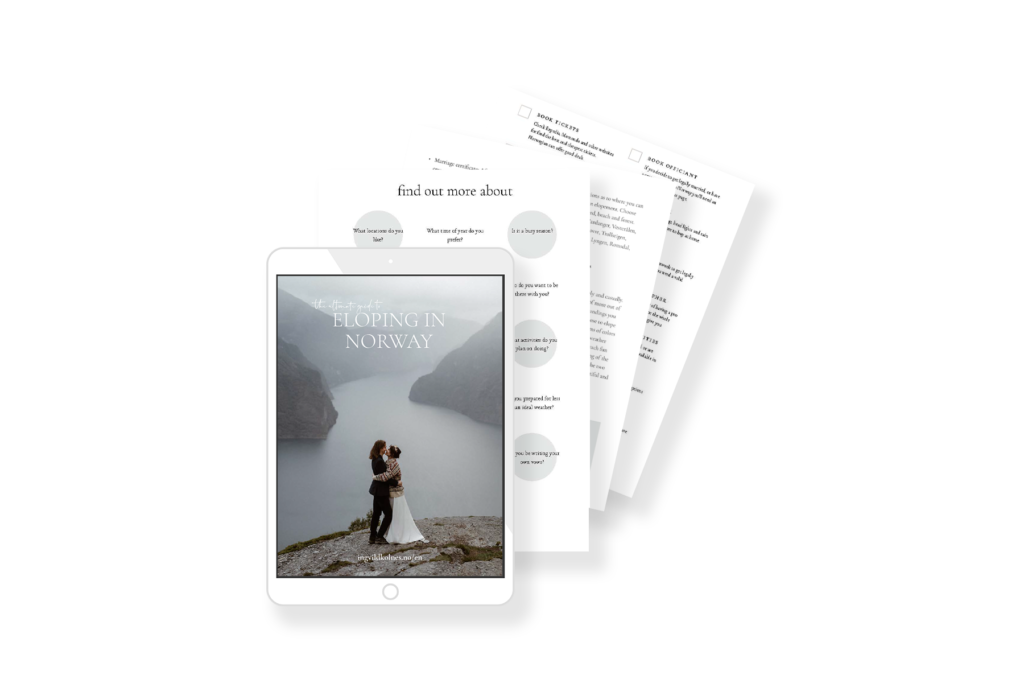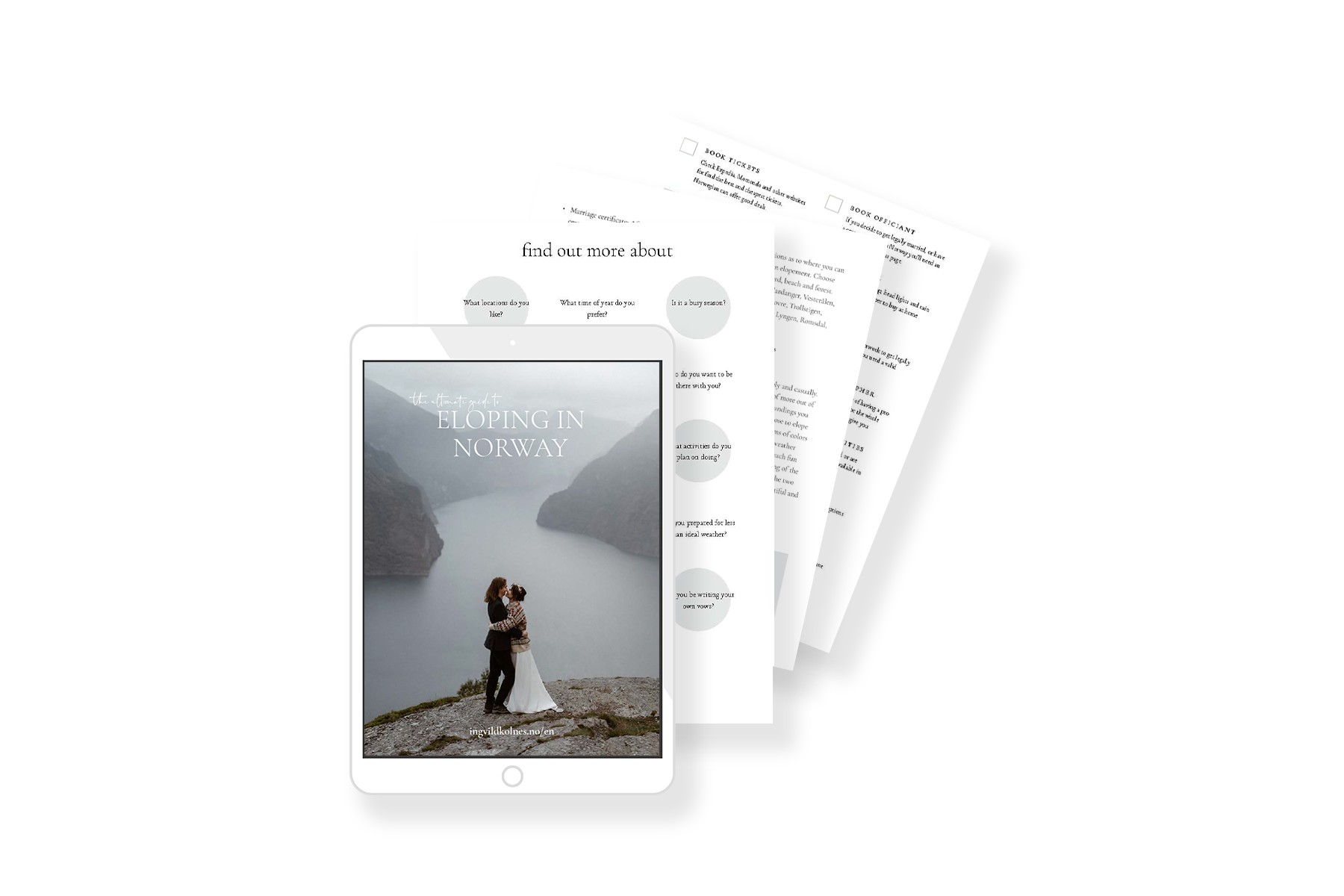 The right to roam
Norway is pretty unique in some regards. You are free to enjoy nature, almost wherever you want to go. The law actually says so. There are of course some limitations that are important to follow. Let me tell you more about that in a bit.

First, there's an important distinction between open country/"unfenced land"- meaning land that is not cultivated; meaning most shores, bogs, forests, and mountains, and "fenced land" (which doesn't actually have to be fenced), which is private, and includes cultivated lands, such as plowed fields with or without crops, meadows, pastures, and gardens, as well as young plantations, building plots and industrial areas.
It's the first kind, the open uncultivated land you can freely access.

Let's talk about how you can use the right to roam and what not to do:
You're allowed to camp anywhere in the countryside, forests or mountains, as long as you keep at least 150 meters away from the nearest inhabited house, cabin, camping car or caravan. If you want to stay for more than two nights in the same place, you must ask the landowner's permission, except in the mountains or very remote areas.


Campfires in or near forests are prohibited from April 15th to September 15th. A fire can be allowed in places where fire hazard is unlikely, like by the sea or on an approved campfire site. In extreme drought, even grills, gas burners, and camping stoves are prohibited, so make sure you Check the forest fire risk on yr.no. If you light a campfire or barbecue, you are legally responsible for making sure it's safe, does not get out of control, and is completely extinguished before you leave. This means that your bonfire elopement has to be had in the wintertime.


You may forage berries, mushrooms, and wildflowers for your own consumption, so why not make a bouquet from flowers you find along the way?


Also – be mindful of drone use. You're not allowed to fly nearby aircrafts, people, birds, animals, or property as you might damage or annoy. In some national parks, you're not allowed to fly at all because of wildlife. You're also not allowed to fly higher than 120 meters over the ground. Read more here.


Respect nature, animals, and local inhabitants.
Note that these are general rules, and local rules and guidelines may apply.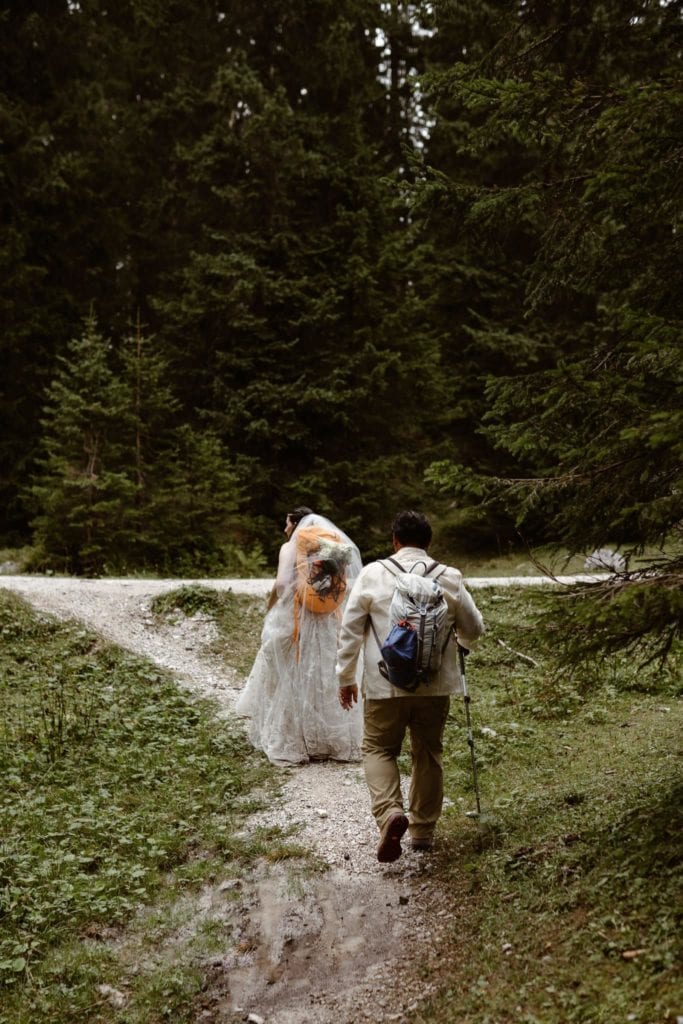 Stay safe while adventuring around Norway
Something I've noticed when traveling the world is that so many places are very safety concerned. Meaning there are fences and signs wherever you go. This is generally not the case in Norway.
We depend heavily on common sense, and it is a relatively sparsely populated country. This means – many places are simply nature without signs and warnings or fences.
This, in turn, means that you have to take great care when walking about.
Don't go too close to waterfalls or glaciers or rivers or mountain cliffs – even if there are no warnings.


Use a life vest when on small boats.


Stay away from wild animals.


The weather can change in a hurry – especially if you're at a high altitude, so bring warm clothes, snacks, and water.


Use your common sense and take care.


Apart from the wildness of nature – Norway is incredibly safe.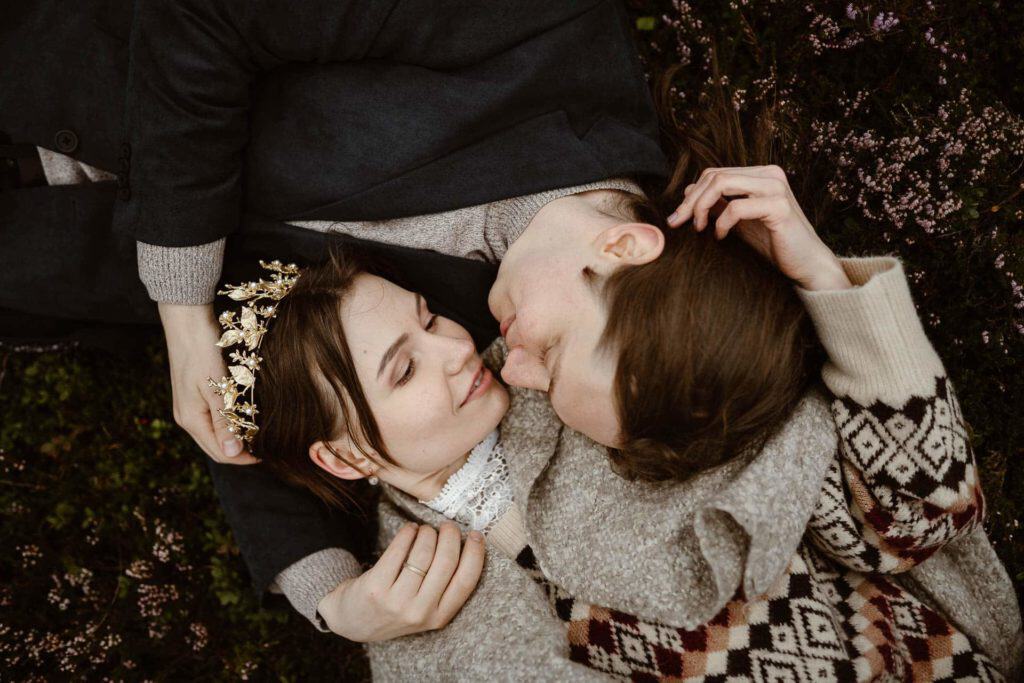 Little things to be mindful of when visiting Norway for your elopement
We take our shoes off when at home – and visiting other people's homes.


Pick up rubbish and things you drop on the ground.


You hardly ever need cash as most places accept card payments.


If you want a chance to see polar bears you have to visit Svalbard. They're not on the mainland.


I've heard Norwegians have a bit of a reputation for being cold and unfriendly. I think it's just a matter of valuing their – and your – private space. That's why you won't meet smiling faces greeting you wherever you go. Except if you meet someone hiking. Then always say hello.


Alcoholic beverages (except beer) can only be purchased from Vinmonopolet.


Most shops are closed on Sundays and other national holidays so plan ahead.


Never drink and drive. The legal limit for blood alcohol is 0,02%, which is pretty much a zero-tolerance for drinking while driving. And don't speed. If you get a ticket it's not exactly cheap.

Wondering where to go? I'll give you some suggestions in an upcoming post so stay tuned. In the meantime, if you want to learn more- just get in touch, and let's talk!

Make sure your Norway elopement memories are preserved
You deserve an unforgettable experience. And you can get help with suggestions for your timeline, location, vendors, and where to go. This should be the most amazing adventure. And almost as a bonus – you can have your day documented. You'll get photos to remind you of one of the best days of your lives.