How to find the perfect adventure elopement dress
There's been a shift in the wedding industry lately where couples are feeling more empowered to plan a day that's meaningful to them.

Often, this means planning an intentional, intimate day, focused on their relationship and goals as a couple. Elopements are a great way to have a meaningful day, celebrate your relationship, and go on an adventure together.
| Read also: What is an elopement?
Wedding dresses VS adventurous elopement dresses
With this new territory comes a new set of problems, though: how do you choose the perfect elopement dress? Gone are the days when weddings were either strictly in a church or an indoor venue, so finding something that fits your style – and the weather – can be tricky.

I've put together a foolproof list to help you narrow your search and find something that fits your budget, style, and values. A traditional wedding dress can be anything, and so can your adventurous elopement dress – you just have to approach your search a bit differently.
Below are 5 questions to ask yourself to find the perfect adventurous elopement dress!
1. Where are you eloping or getting married?
Choose a dress that works with your landscape. It may seem like a simple concept, but don't choose a sand-coloured dress if you're getting married in the desert-like in stunning Namibia- or a pale green dress if you're getting married amongst evergreen trees in Canada.
| Read also: The elopement planning tips you need!
Different things to think about:
COLOUR – Choose a dress or colour that will stand out in whatever landscape you're getting married in. Clifftops are often windy so light dresses that catch the wind are beautiful, and snowy mountaintops are a great location to wear a dress that is either ivory, off-white, or a completely different colour altogether! Don't be afraid to choose a colored dress, or even a black dress! It's your day, so you can do it your way.
ACCESSORIES – If you're getting married in a cold, snowy climate, you can opt for accessories like hiking boots, a knit jacket, or even mitts and a hat that show your personality. You can also bring a warm blanket and layers to snuggle up in together if you get cold. You can also add crowns, floral wreaths, lace headpieces, jewelry, and any other accessories that feel like you. For beach elopements or other warmer destinations – less is more! Barefeet for the win!
TRAINS – Long trains are always gorgeous, and choosing one for your adventurous elopement dress is no exception! If you're in a location that doesn't allow for a ton of movement (for example, on the edge of a cliff), having a train to toss into the wind can make for beautiful, unique photos. Yes, trains will get dirty, but you'll find they're great for hiking, and even better for photos! Besides, what's a little mud on the hem of your dress?!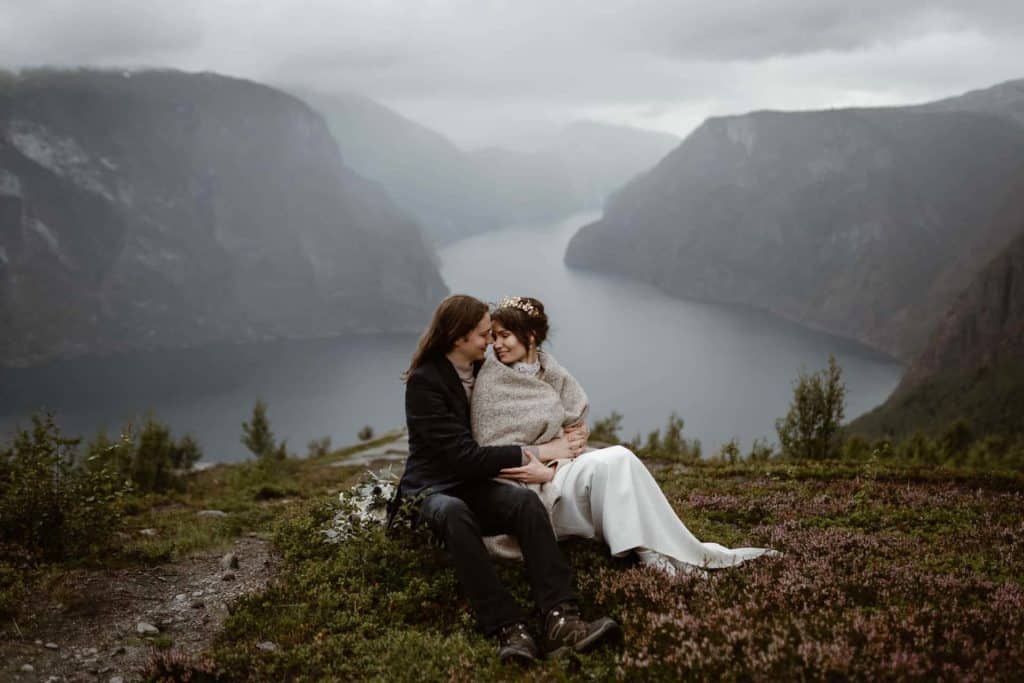 2. What type of climate are you eloping in?
The fabric of your dress can have a huge impact on how comfortable you are. There's a huge variety in what's available for wedding dresses in terms of fabric. Think about how and when you're getting married: will you be hiking up a mountain in a colder climate like in Northern Norway? Are you having your ceremony on a tropical beach in Bali or Hawaii? Is it going to be sunrise, when things are still cool, or midday when the sun will be hot?
Things to keep in mind:
BEST FOR HOT CLIMATES: Lightweight fabrics like chiffon, organza and tulle are all very light, breezy fabrics that allow for a lot of movement. If you're eloping or getting married out in nature, these dresses will catch the wind and photograph beautifully. If you want to get in the sea with your dress on, or catch the wind cliffside, the floaty fabric of this style of dress with look amazing. Twigs and leaves tend to get caught in this type of fabric, but can easily be picked out. Lightweight dresses also great if you're getting married somewhere hot or if you'll be hiking. Short sleeves or no sleeves, or a two-piece crop top, are great for the heat.
BEST FOR COLDER CLIMATES: Heavy fabrics like silk, satin, polyester and blended fabrics are slightly warmer because they're not as breathable. They don't have as much movement, but they can work well for winter weddings or colder climates to keep you warm. Long sleeves are also better in the cold.
BEST FOR HIKING AND ADVENTURE ELOPEMENTS: Lace dresses are now made with a bit of stretch to them, which is great if you want to hike or dance up a storm. Lace also has a nostalgic feel to it, so if you're sentimental but still want to be comfortable, this is a great solution. A dress with a slit up the side might not be a great choice, as it might show off your leggings or tights. Something flowy will also look amazing and should be easy to move and hike in.

If you're planning to hike (or mountain bike or kayak) but plan to change into your dress once you reach your destination, there are a few things to keep in mind:

You'll need a dress that easily fits into a backpack, but that doesn't add more weight than you're willing to hike with.
For kayaking, make sure the dress fits into a dry bag, and the filled bag will fit in your kayak or strapped on top.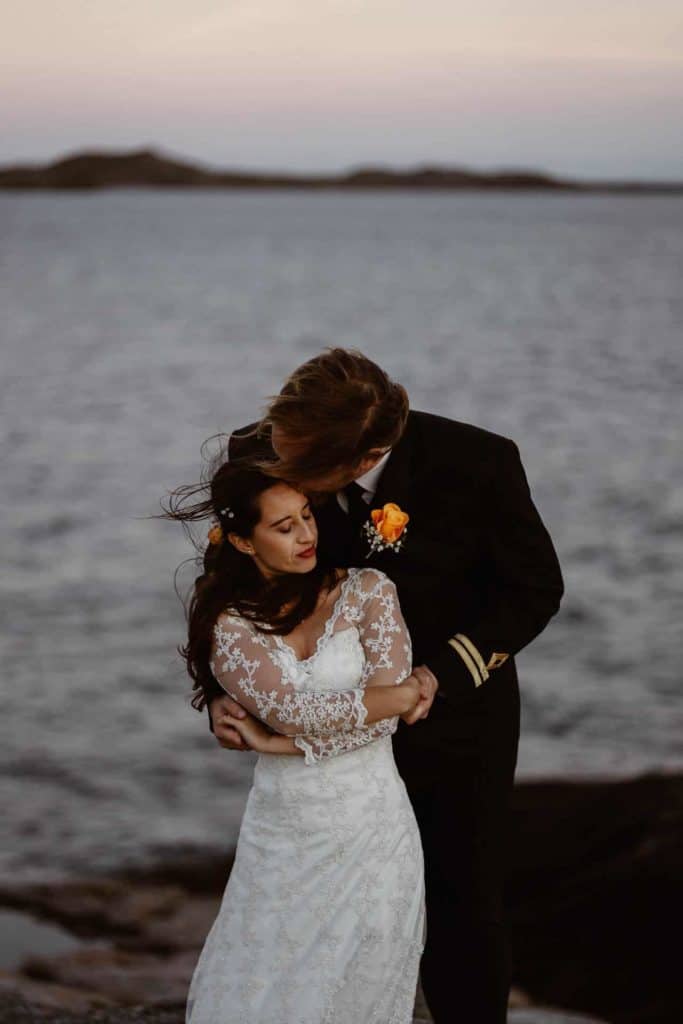 3. What's it like to move in the dress?
If you want to do something different for your wedding day and elope in an adventurous outdoor location, then you may have to hike or travel throughout the day. Since you won't necessarily be in one spot or driven from Point A to Point B, it's important to choose a dress that you can move in.
These are the most important things to keep in mind:
Lots of fabric below the waist is easier to hike in. If you have a tight-fitting bodice or top with a long, flowing skirt, it's easy to gather the skirt in one hand and still manage to hike along a path. Long trains not only look great, but can be draped over your arm (or shoulder!) while you're hiking to leave your hands free.
If you have a relatively short hike to your ceremony site, you can put your dress on at your getting ready location and wear it while you're hiking. If the hike is going to be steep, difficult, or long, it's easier to wear comfortable hiking clothes and then change into your dress when you arrive. You can find a rock or bush to hide behind while you're changing, and I'm also a great lookout!
Find a dress that doesn't wrinkle. I always recommend packing your dress in a garment bag and putting it at the very top of your hiking pack, but it's still ideal to choose a fabric that doesn't show wrinkles. If you pack your dress at the top of your bag, you can tie your shoes to an outside strap. You can also have your partner put the bouquet in their bag (I'll show you how to pack it so it doesn't get damaged!), or put it in a water bottle sleeve on the outside of your backpack.
Are you doing a first look? If so, you may want to change into your dress at your ceremony site so your partner doesn't see you beforehand. Fitted silhouettes like trumpet or mermaid wedding gowns can be a bit too restricting for more than a little bit of walking. On the other hand, a giant ball gown-style skirt will probably be too much to manage for a hiking elopement. If you're riding in a car, off-road vehicle, helicopter, ski lift, etc. to your ceremony, you won't need to worry as much about hiking in your dress and you'll have more flexibility in what style you choose.
4. What's your dress shopping budget?
I've seen amazing dresses that cost a fortune, and equally beautiful dresses and cost a fraction of that. Keeping your budget in mind while you shop is so important! It's possible to find a beautiful elopement dress no matter your budget, so don't get discouraged if you don't find your dream dress right away.
Whether you shop online or you prefer to shop in person, it's easier to do once you have an idea of what you're looking for.
Online vs. in-person wedding dress shopping:
ONLINE: There are amazing online boutiques where you can order custom-made elopement dresses that fit like a dream. You can pay online by credit card after sending them your measurements, and have your elopement dress show up on your doorstep. (Just keep in mind depending on where you order from that there may be duties or customs fees when your parcel arrives!). Mimetik and Wear Your Love XO are a couple of my favorite online boutiques.
IN PERSON: If you'd rather try on a few different styles, you can make an appointment at a local boutique and mention your search criteria for your elopement. You can see firsthand how comfortable the different styles are, and also bring a friend or family member with you to help you decide! My favorite designers are Grace Loves Lace and Cecilie Melli.
5. Ready to start shopping?
Awesome! Just remember to keep these important tips in mind while you shop:
Dress shape and style matter. A-line dresses, flowy skirts, and 2-piece dresses are not only comfortable to hike in, but they stand out against landscapes in nature. They allow for a lot of movement and can be really fun to play with during portraits.

2-piece dresses can be easier to re-use after the wedding day as they can be worn as separates.
Being mobile is important! If you find a 2-piece dress with a long flowy skirt, but you can't move your arms in the tight lace top – it's probably not ideal. Make sure that your elopement dress has enough stretch or allows for enough movement so you can enjoy your day comfortably.

Tip: when you're trying on dresses, try lifting your arms above your head, and gather the skirt/train and walk around to see how well you're able to move in it. Also sit, bend, twirl, and even skip a bit through the store. You want to make sure you can move in your dress!
Confidence is key! If you find the most beautiful dress in the world but are super self-conscious in it, it's going to put a damper on your elopement day. Shape, style, fabric, and length are all important, but ultimately it comes down to choosing something that's YOU and fits your style and comfort level. It's your wedding day, so you should feel like the absolute best version of yourself.
Find out where and how your dress is going to be made. You can easily find out what conditions your wedding dress is going to be made in, whether the workers are paid a fair wage, and whether your chosen fabrics are sustainable, re-used, or low-impact on the environment. You can also find designers who upcycle old fabrics and dresses to create truly gorgeous vintage-style dresses, which saves them from ending up in a landfill. We Are Reclamation dresses are all made from recycled lace and hand-sewn in Canada.
Thinking about eloping in Norway? You can read all about traveling in Norway here.
| Read also: How to elope in Norway